Nagios Fusion
Nagios Fusion™ - a powerful tool for visualizing operational status and enabling faster problem resolution across an organization's entire IT infrastructure.
Description
Nagios Fusion provides organizations with the ability to quickly identify and solve problems on an infrastructure-wide basis before they affect critical business processes. IT operations staff use Nagios Fusion to gain insight into the health of the organization's entire network through a centralized view of their monitoring infrastructure. Tactical overview screens display the status of hosts and services
monitored by all Nagios Core and Nagios XI servers deployed throughout the organization, enabling faster problem detection and resolution.
Nagios Fusion provides organizations with many benefits, including: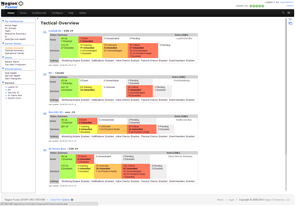 Centralized View: Provides IT operations staff and management with quick, at-a-glance visual indication of problems anywhere across your IT infrastructure.


De-Centralized Management: Allows geographically separated teams to manage their own individual monitoring servers, while providing central operations staff with access to all servers.


Distributed Monitoring Made Easy: Alleviates the need for complex configurations, data transfer problems, and having to manage changes on both central and distributed nodes.


Scalability Without Limits: Designed with unlimited scalability in mind. Remote Nagios servers distribute the load associated with monitoring and performance graphing. As your infrastructure grows, your monitoring environment can expand without increasing load or management requirements at the central node.


Comprehensive Server Support: Integrates with both Nagios Core and Nagios XI monitoring servers to provide infrastructure-wide visibility.


Simple Connectivity: Remote monitoring servers need only be accessible via HTTP or HTTPS, removing the need for dedicated VPN links and custom firewall rules.


Outage Visibility: Provides IT staff with a global view of monitoring server operations, making it easy to spot remote server outages and initiate remedial failover operations.


Failover Protection: Multiple Fusion servers can be easily deployed to provide a global view from multiple geographic locations.


Managed Service Bliss: Distributed operation allows Managed Service Providers (MSPs) to easily keep tabs on monitoring servers installed at their clients' remote locations without the overhead or complexity of persistent VPN connections.
Support Center
For technical support email or call us on:
Tel: 27 (0) 11 705 1930
Fax: 27 (0) 11 705 1644